FAQs
What is this website?

This website is a search portal for finding and requesting collections from the Richard B. Russell Library for Political Research and Studies, the Hargrett Historic Manuscripts and Rare Book Library, the University of Georgia Archives, as well as the Hargrett Map Collection, and the Historic Clothing and Textile Collection. It is designed to help with historical research by providing descriptions of collections.

What are finding aids?

Finding aids are descriptions of collections. They contain information about who made the collection, the dates of the materials found in the collection, and lists of what is within the collection. It also details restrictions on parts of collections, such as copyright or donor imposed restrictions. Finding aids are made to help researchers, such as yourself, find historical materials to help with their primary source research.

What sorts of collections do you have?

Everything from Georgia history, political documents from local, state, and federal levels, personal papers from famous individuals and organizations such as Margrett Mitchell and the American Civil Liberties Union, and much more! Every library has different materials, so if you're not sure which library to choose, you can search them all from this website and narrow your search based on your research area.

I've found a collection that has some materials I want to see. How do I see them?

If you are looking at a collection page on the website, on the bottom of the page contains what's called a Series Description and Folder Listing. This contains information about specific materials within the collection. Next to every box, there is a checkbox saying "Request box". Check the checkbox and go to the top left hand of the screen and click the "Submit Request" button. A popup will appear confirming your request and it will take you to our internal requesting service. If you're a UGA faculty, staff, or student, make sure to use your MyID! If not, you can sign up for a new account and continue the process. After filling out the info, make sure to contact the Special Collections Libraries to schedule your appointment.

How do I cancel a request?

You can cancel a request by clicking on "Access Your Account" at the top left side of a finding aid page. That will redirect you to our request portal where you can edit your request.

When will my request be fulfilled?

Requests are put on hold until you arrive in the Special Collections Libraries building. After arriving in-person, we will pull the materials you requested and you can start digging in! One box at at time though.

Do I have to be a UGA student, staff, or faculty to request materials?

Nope! Anyone can request materials, so long as you make an account with our requesting system.
Search Page
The main search page is where you can do advanced searches to help narrow down what resources you are looking for. There are 2 ways to search: Search and Browse
Search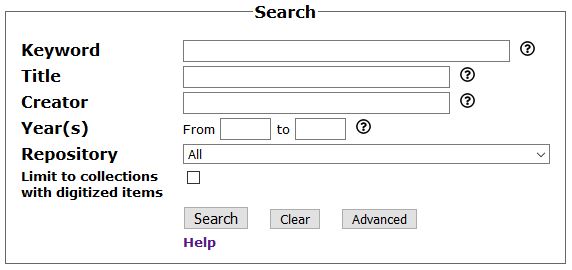 The search box is the main way to conduct searches for resources. Here, you can search by keyword, title, creator, and years. Additionally, you can narrow your searches by repository. For instance, if you just wanted to know what the Russell Library has relating to dogs, you would type in "dogs" in the keyword box and select "Richard B. Russell Library for Political Research and Studies" in the repository drop down menu. This limits results to just that repository. Also, if you wanted to search for collections with digitized, online accessible materials, you can check the checkbox that says "Limit to collections with digitized items".
To conduct a more advanced search, click the "Advanced" button at the bottom.
To clear all fields and options, click the "Clear" button at the bottom.
Browse

If you are looking to browse collections, you can do so using this box. You can browse by title (in alphabetical order), creator (in lastname alphabetical order), Subject, and repository. Just click on any of the links to browse by what you want. If you want to browse by repository, select the repository from the drop down menu and click "Browse".
Searching Tips
All (default): All search terms occur in each page.
Truncation: Broaden your search by using an asterisk (*) or question mark (?): e.g. diplom* will find diploma, diplomatic; wom?n will find woman and women.
Exact phrase: Double-quotes ("") should be used to specify an exact search: e.g. "opera house."
Limit to collections with digitized items: Use the checkbox to limit your results to finding aids that include links to digitized materials.
Results Page Help
The results page includes many features to help clarify what resources might be helpful in your research.
Sorting
Results are sorted first by relevance, but you can sort by the following as well:
Title: This sorts results by alphabetical order, beginning with non-alphabetical titles
Author: This sorts results by an author's or collection creator's last name
Date Oldest: This sorts results by the oldest starting date for collections
Date Newest: This sorts results by the newest starting date for collections
Repository: This groups results by each repository
Emailing Results
A user can email results by first saving the result, then going to the Email Saved Records page and submitting their email in a popup. Here's how it works:
After searching, click the Save button on the right hand side of the result you want to email
Click the Link at the top right of the results page that says Email Saved Records (#)
In the Email Saved Results screen, click the Email Saved Records button at the top left
A popup will appear - make sure to allow the popup on your browser. Then fill in your email and click send.
You will receive an email from no-reply@uga.edu. Please do not respond to the email.
Other tips
Use the New Search Link at the top right or finding aids search breadcrumb at the top left to go back to the original search screen.
You can remove search parameters by clicking the [X] link in the top left, where it says Search:
The number of results is located at the top left, right below your search parameters
To jump by 5 pages of results at a time, click the ... (ellipses) at the top right.
The Browse by options at the top right will browse all collections, not the collections found in your search.
By clicking the Find text in Similar Items field in each result, it will generate a list of similar collections to the result displayed.
To expand the Contents field in a result, click the More button at the end of the contents text. To condense it, click Less.
For keyword searches, you will find matched hits in the Matches field. Click the link of the matched text and it will take you to the place in the collection where that match is located.
Finding Aid Page Help
Choose the boxes you would like to use by selecting the check boxes in the Series Description and Folder Listing section of the finding aid

Click the Submit Request button at the top left of the screen

A window will pop up requesting that you: 1) confirm your selection, 2) add any notes that will help you recall any pertinent information about your selection, and 3) choose whether to save your request to submit later or select a date when you want to come in to see the material. REMEMBER: Staff will not automatically pull materials in advance of your arrival unless you call or email Special Collections prior to your visit.


Once the request is submitted, you will be taken to your Special Collections Research Account to log in. If you do not have a Special Collections Research Account, you will have an opportunity to create one. For further information about creating a Special Collections Research Account, visit Registration.
Please use these helpful pdf guides for requesting materials, should you need further assistance: Guide for Hargrett, Guide for Russell
We also have a selection of informational videos: Research Registration, Hargrett Manuscripts and University Archives, Rare Books and Georgiana, and Hargrett Materials in the Digital Library of Georgia